FRIENDS ONLY


Yeahhh babe. And I'm NOT going back..a few years ago I spent days changing 686 entries to being FO cuz some freaks were reading them.


Soo add me :]
Current Mood:

tired


I've made it to 1,000. Oh, yay!!
Whatever, just comment!
djessence942
'kay?! :]]
If anyone wants a new friends to LJ add
Current Mood:

blah
Meet Adam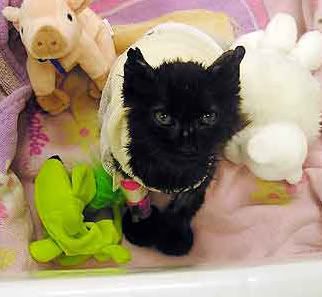 No, that's not a silly sweater he's wearing, they are bandages. Adam is a three month old kitten that was locked in a cage and set on fire by two teenage girls in Santa Rosa. He lost his ears, his tail and over 40% of his skin.
California has some of the most lenient animal abuse laws in the country. The absolute maximum punishment for an animal cruelty case like this is 3 years in prison and a $20,000 fine, if the offenders are charged with a felony. In most cases the charges will be plead down to a misdemeanor, and the offenders will spend less than 2 years in jail. In contrast, in Oklahoma and Louisiana the maximum sentence is 10 years and $5,000-$25,000 in fines.
What can you do about it? You can sign the petition and help put in motion laws that will double the maximum sentence time for animal abuse cases. Six years may not seem like much, but it's a lot better than three.</center>
SIGN THE PETITION!
myspace.com/adamthekitten
Click here to add Adam to your friend's page
Help spread the word about Adam and repost this bulletin!
</center>

hahah

I owe the school library $16


& random, I took an eating disorder quiz on this health website and it said that I am at an 80% risk of having a disorder and I NEED MEDICAL HELP.

hah. funny.




OH
on the negative side..
Cody let me borrow Grand Theft Auto: San Andreas[the one with the black guy] but we don't have any freaking PS2 controllers at this damn house right now
grr
I owe my Step Dad $247
Current Mood:

cheerful


It is officially my birthday!
:]


I'll update sometime this weekend. ♥
Happy Birthday To Meeee